Are you looking for the perfect novelty baby gift for a friend or loved one?
A different type of baby milestone cards, to document those moments most parents want to forget?
or a funny new baby gift to send to some expectant parents? Then look no further!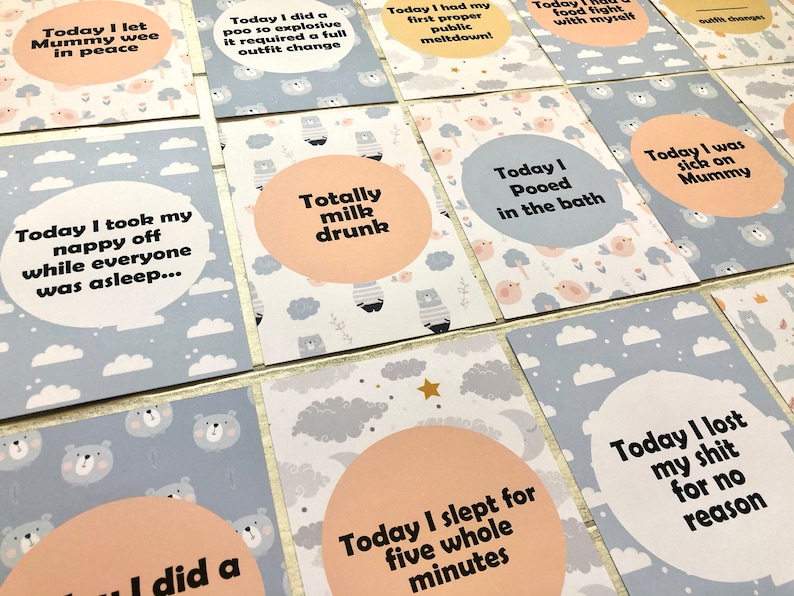 🎁Our illustrated Alternative Baby milestone cards are ideal for taking photos of those important memories to look back on in years to come. All our baby milestone cards are hand wrapped in tissue paper and supplied in a lovely keepsake gift box, so they also make a perfect gift for new parents to document those unforgettable events during baby's first year.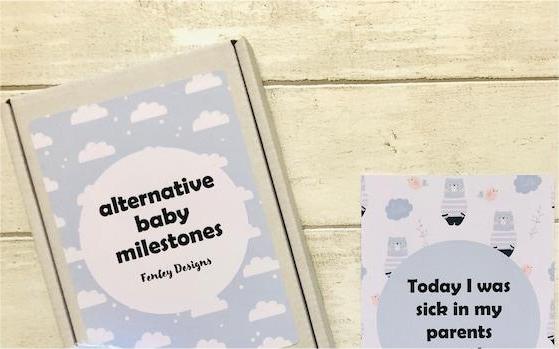 🎁These milestones are printed on high quality 6 x 4" 250gsm premium smooth card, so they are the perfect size for sticking in a scrapbook or baby journal. They are also the perfect size for fitting in nappy change bags when you need to discreetly take a photo at one of those awkward baby moments!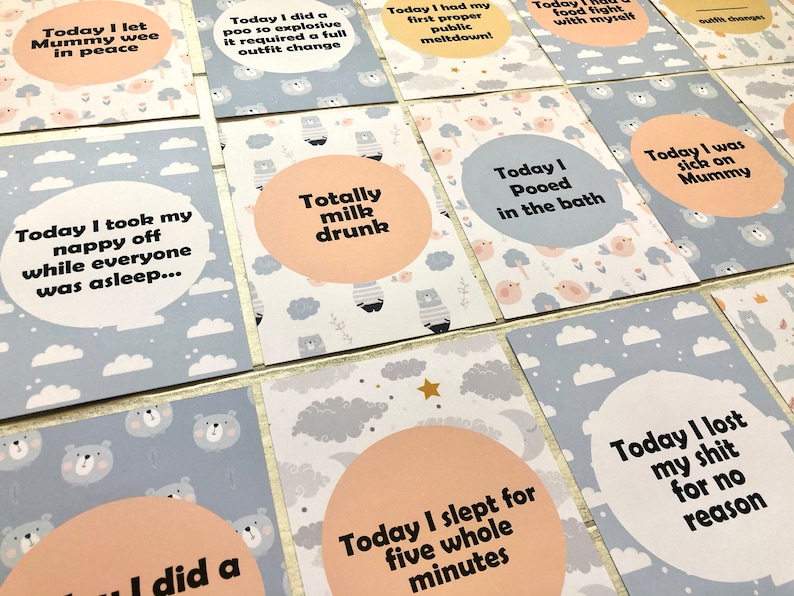 🎁These make a perfect new parent gift with a difference. Great to be used as an alternative baby shower gift, or even to be given as a pregnancy gift for someone special to show them what's to come.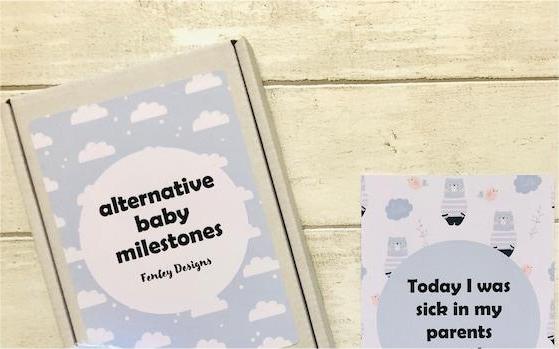 🎁There are 20 milestone cards supplied in a pack, and each one features a unique moment.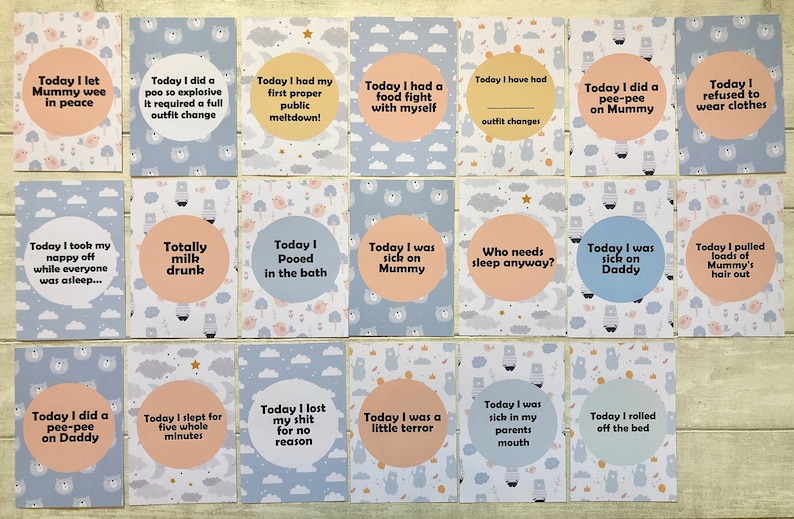 The 20 designs are:
TODAY I DID A POO SO EXPLOSIVE IT REQUIRED A FULL OUTFIT CHANGE
TODAY I WAS SICK IN MY PARENT'S MOUTH
TODAY I ROLLED OFF THE BED
TODAY I POOED IN THE BATH
TODAY I TOOK MY NAPPY OFF WHILE EVERYONE WAS ASLEEP
TODAY I HAD MY FIRST PROPER PUBLIC MELTDOWN
TODAY I WAS SICK ON MUMMY
TODAY I WAS SICK ON DADDY
TODAY I PULLED LOADS OF MUMMY'S HAIR OUR
TODAY I HAVE HAD .... OUTFIT CHANGES
TODAY I LOST MY SHIT FOR NO REASON
TODAY I DID A PEE-PEE ON DADDY
TODAY I DID A PEE-PEE ON MUMMY
TODAY I WAS A LITTLE TERROR
TODAY I SLEPT FOR FIVE WHOLE MINUTES
WHO NEEDS SLEEP ANYWAY?
TODAY I LET MUMMY WEE IN PEACE
TODAY I HAD A FOOD FIGHT WITH MYSELF
TODAY I REFUSED TO WEAR CLOTHES
TOTALLY MILK DRUNK
SPECIFICATION
✨Size:6*4inch
PACKAGE INCLUDES
🛒A Set Of Baby Memorial Card (20 Pcs)