💗Create an Instant and Stable end Table For Sofa 🔥
Replace the massive tables with minimalistic compact snacks tray...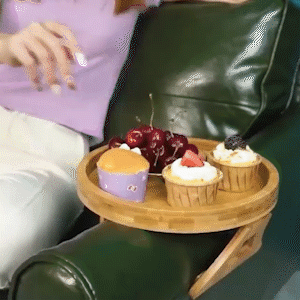 BEST CHOICE FOR DAILY ACTIVITIES
The tray is installed on the armrest to provide you with a convenient place for your mobile phone, snacks, breakfast, books, TV remote control, coffee, hamburgers, etc.
You can get what you want easily, which is very convenient to your life.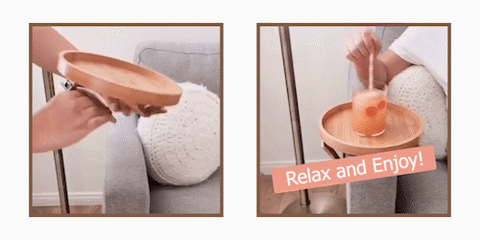 Suitable for most sofas
The first thing you notice about this foldable armrest tray, is the heft of the hinge and clamp of the spring.
It creates a wide grip for the arms of medium to wide arms. Try this Durable 100% Bamboo Armrest Tray and see!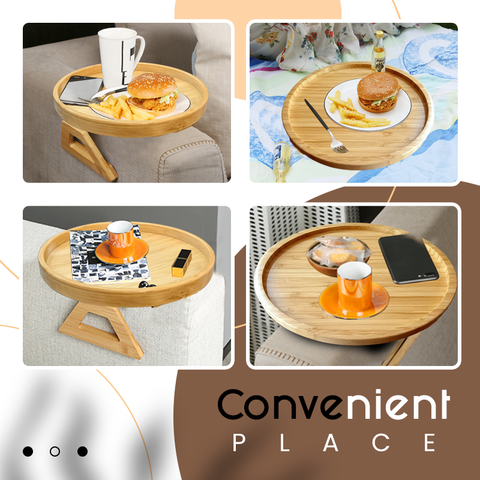 ✅ Perfect to put your snacks on
✅ Suitable for most sofas size
✅ No more uncomfortable positions to eat your snacks
✅ More time to enjoy your movie or tv show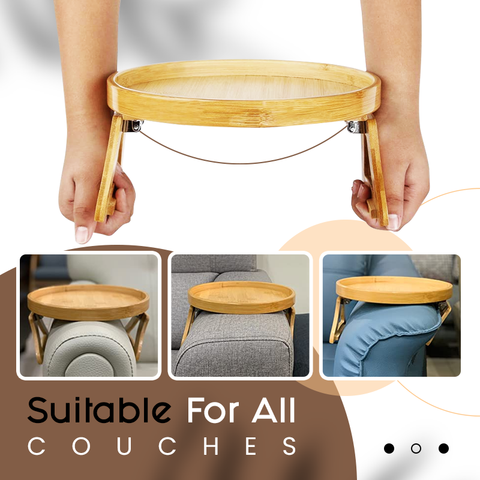 Replace the massive tables with minimalist compact snacks tray..✅
Made From Orignal bamboo,s✔️
Compact Space Saving Design✔️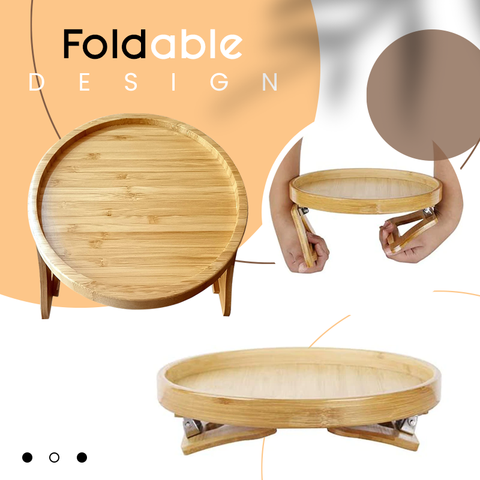 FOLDABLE DESIGN
This sofa table not only take up less space than regular tv trays for eating, but it also folds into itself to store under the couch when not in use!
And while you shouldn't lean on it, you can enjoy a regular sized dinner plate on it!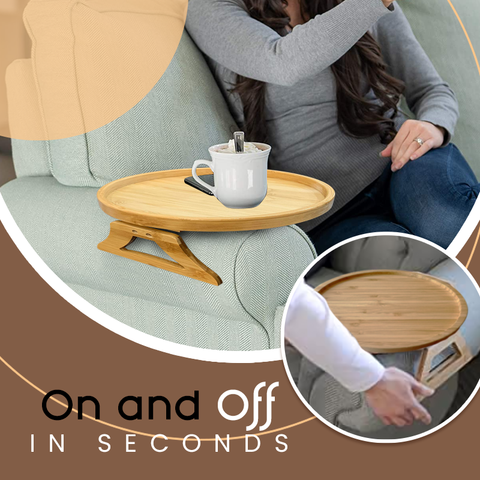 EASY TO USE
This armrest table is easy to use! No other tools required, install and uninstall in a second, just clip-on and off.
Also design with anti slip rubber grips to stop your tray from rolling around so you can sit your drink next to the remote without worry.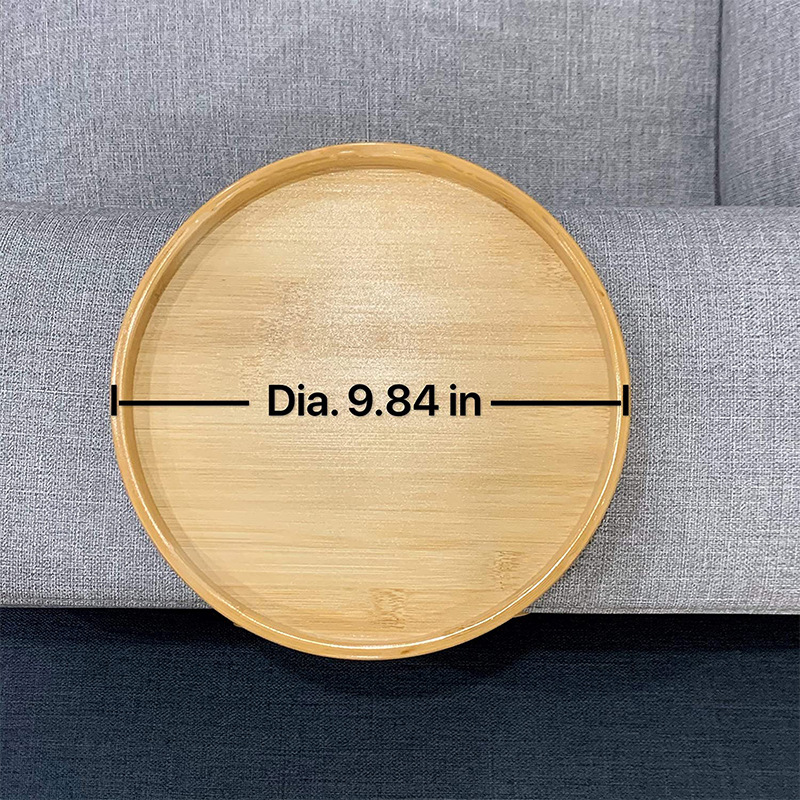 FIT IN DIFFERENT FORMS (within 10 inch width)
Easy for reaching remote control/coffee/snacks/phone, especially ideal for elders with mobility difficulty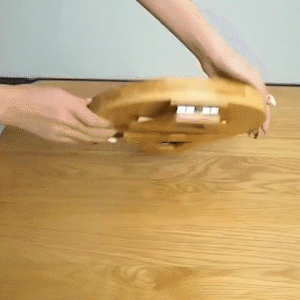 - Would this work on the side of a bathtub?
Yes! I just tried... Be sure and use the rubber disc that comes with it so it doesn't slide... 🤗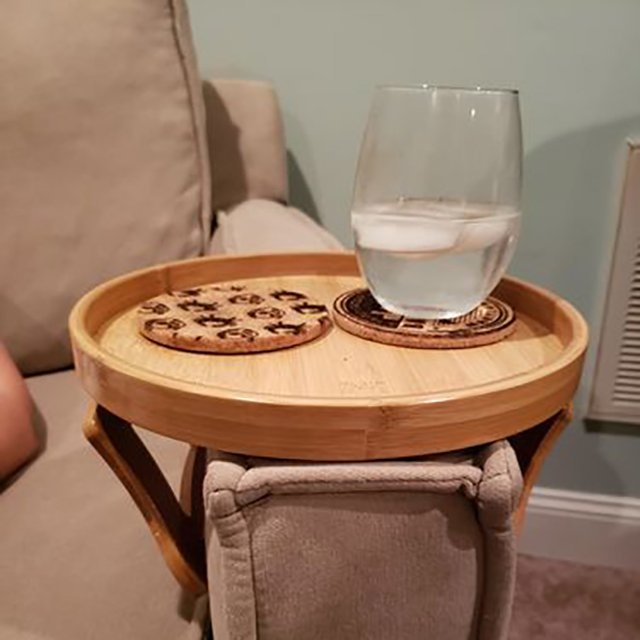 Material: Natural Bamboo
Size: 9.84 inch ( DIA. )

1PC / 2PCS / 3PCS Sofa Armrest Tray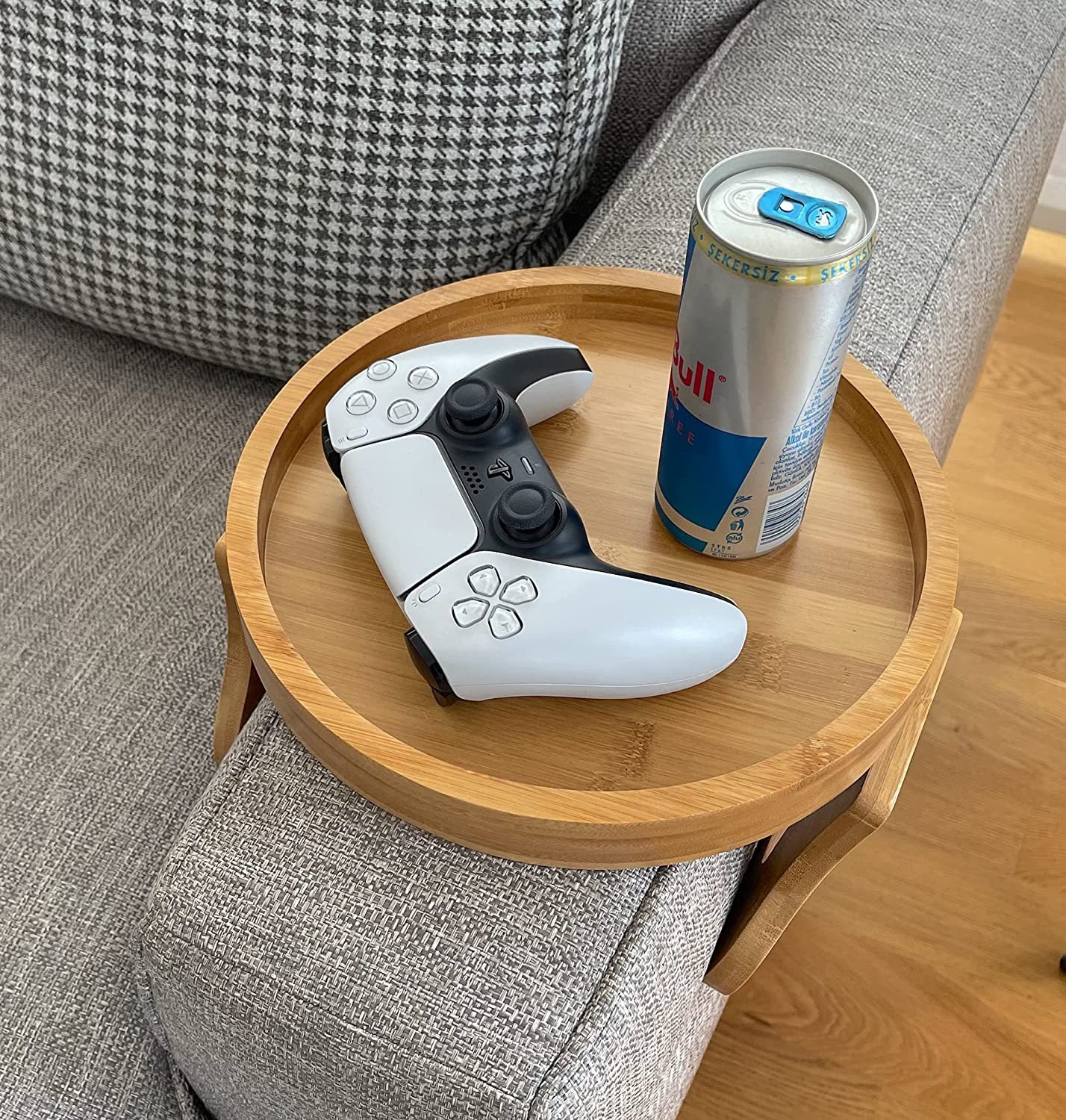 ---
Customer questions & answers
Question:Does it work on soft arm couches?
Answer:It should. The fit of this table depends on the width of the arm.
By Rhonda Schipper
on May 21, 2021
---
Question:Can it be used on the side of a bathtub?
Answer:Actually yes if the width of your bathtub side is wide enough between around 5 to 9 inch, some of our customer also clip this tray on the side of their bathtub, and one of the customer shared one tip that put a face cloth underneath to prevent slippage. Hope my answer will be helpful for you!
By Robert Woloscuk
on February 17, 2021
---
Question:Will the spring loaded mechanism make dents in the leather of my RV sofa?
Answer:No, the flat non-slip silicone will not easily leave dents on the armchair. You can leave it on the armrest.
By Steven Shontz
on January 7, 2022
---
Question:Does this need to be on a flat arm sofa or can the arm be contoured?
Answer:This sofa arm tray fits in both flat and round arms within 11 inch width, as not sure about the shape of your contoured arm, but if within the width of 11 inch, the clamp can hold it!
By Meagan day
on December 30, 2021
---
SHIPPING
We would greatly appreciate your patience and understanding as we work to meet demand while ensuring that every piece meets our high-quality standards.